Thanks to all who came out to Breast Fest on Saturday! The show was incredible thanks to all the fans who showed support and screamed loud for us.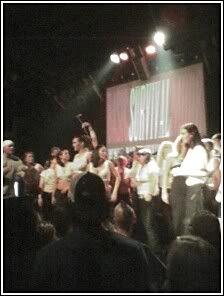 The Wet T-Shirt contest had a plethora of beautiful "talent" including
esitu
's very own
teeta_girl
and
hematomaalice
! Well done, ladies. I cheered the loudest for you.
Quotes from the evening,
"I've never seen your band before tonight, but I had to tell you that your band is amazing." - Some 40 year-old dude.
"My name is Teresa and I'm ESITU's number one groupie!" - Her name is in the quote, do I really need to tell you who said it?
"Evil Matt, you're my hero, brah!" - Some dude with a red shirt and goatee.
"Best ESITU show I've ever seen!" - Darren of Endless Grey.
"BOOOOOOBIES!!" -
imtheism
"When I think of heaven, I think of this night. I think of a rock show with titties half-way through. And if I get to heaven, and there's no rock show with titties, I'm the fuck outta there. Cuz I KNOW Satan is throwing a rock show with titties down in hell!" - Yours Truly
Thank you again for all the support!
- Evil Matt